Kyklades Yachting offers you Day Cruises and Vip Transfers.
Visit Mykonos and Cyclades surrounding Islands with the Safety and Luxury our boats can provide.
Our fleet consists of Luxury Boats which can offer you the unique choice to discover all the hidden beauties of Cyclades and all the Aegean Sea.
Enjoy unforgettable moments of relaxation with your family and friends.
Our trained staff will offer you a pleasant experience, applying all the measures for your safety.
Explore with us, the most beautiful and famous destination at the Aegean Sea. Dilos, Rineia, Naxos, Paros, Koufonisia and more…
Safe and comfort transfers to the most hot destinations in Mykonos island. Nammos, Kalua, Scorpios, Spilia or everywhere you want.
Service or support for other boats or ships. Transporting people or supplies to and from shore or another ship.
We undertake the collection and transport of your luggage by private vehicle from the airport, port, hotel or from anywhere you wish on our boat or from the marina to your destination.
Full day & half day cruises to the Greek islands of the Cyclades with our luxury fleet (boats & yachts).
Tinos | Syros | Delos | Naxos | Koufonisia | Andros | Tragonisi | Sifnos | Milos | Amorgos | Santorini | Rineia | Mykonos | Antiparos | Paros
Enjoy free snacks (fruits/sandwiches)
and beverages during your full day cruise.
Free towels are also offered.
Safe and comfort transfers to the most hot destinations in Mykonos island.
Nammos | Kalua | Scorpios| Spilia | Paradise or everywhere you want.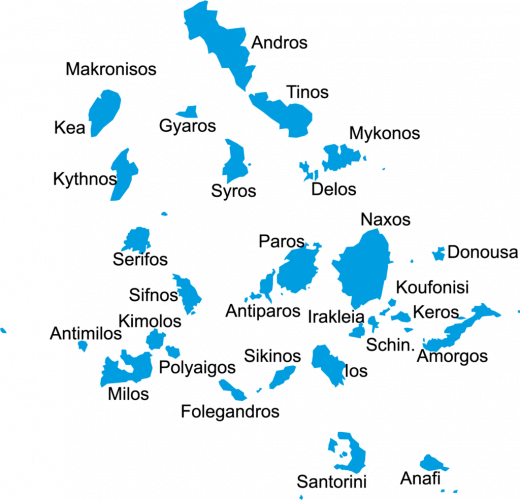 Venture28302572427
September 9, 2021.
Verified
Absolutely amazing experience,with amazing captain!!the Boat to rent when you visit Mýkonos,for a unique t It was an amazing day ,the captain is so kind and so good vibe person ,he drove us to amazing places alla around the island !

SofianosCh
September 8, 2021.
Verified
Wonderful boat trip We spent one day with a ribboat. Nikos was amazing. He saw us wonderful places with Crystal clear water. We do it again for sure next season.

Verified
Υπέροχη εκδρομή ! Υπέροχη εκδρομή από Μύκονο Ρηνεια και Δηλο και σε παραλίες της Μυκόνου ! με πολύ ευχάριστο οδηγό ! Σίγουρα θα ξαναπάμε

Pedro R
September 6, 2021.
Verified
Perfect choice! Nikos, is a great skipper, very friendly and he try everytime to make a nice day on the sea. The Rib is perfect to enjoy this coast!

Verified
Mykonos est plus belle vue de la mer, surtout à partir du bateau de Nykos Nous avons passé deux journées très agréables en famille sur le beau bateau de Nykos. Excellent rapport qualité prix et la gentillesse et le sourire de Nykos en prime.

Verified
EXCELLENT ! Nous étions 3 amis, nous avons passée une excellente journée ! Nikos le capitaine est super sympa, il nous a d'abord emmené sur une petite plage déserte où nous avons pu nous baigné puis à Paros puis dans d'autres coin très sympa où nous avons pu faire quelques plongeons. Il nous as également fait découvrir l'épave d'un bateau grâce aux accessoires de snorkeling qu'il a bord ; GÉNIAL ! Sans oublier les snacks qu'il nous a préparé… Cerise sur le gâteau, en rentrant au port en fin de journée, un petit groupe de dauphins est venu nous saluer ! Journée au top, nous recommandons ! Merci encore Nikos !

Eugenidis
August 6, 2021.
Verified
Αξέχαστη εμπειρία Αξέχαστη εμπειρία στο μαγευτικό νησί που ο Νίκος ο καπετάνιος μας την απογείωσε με το σκάφος του,τον επαγγελματισμό του και την όμορφη του διάθεση.Είναι ο τέλειος συνδυασμός της ελληνικής φιλοξενίας και της νησιωτικής ομορφιάς το συστήνουμε ανεπιφύλακτα!
Verified
Nice sea trip Well organised and great treatment. Leading us around the Mykonos island. Careful towards individual needs. Good music and food

Verified
Μύκονος boat-trip Εξαιρετική εμπειρία. Ο κ.Νικος συνεπεστατος , ευγενικός και φιλόξενος. Καταφέραμε σε ένα πρωινό να δούμε όλες τις νότιες παραλίες του νησιού αλλα και την Δήλο με τον πιο άνετο τροπο. Το συστήνουμε ανεπιφύλακτα.

Verified
Amazing service and lovely team! Nikos and his team were outstanding, great service always on time and make sure you have everything you need. They helped with making reservations and made our trip to Mykonos very enjoyable.